Are you looking to enhance and optimize your workplace?
United Business Solutions is an expert Office Automation, Telecommunications and Security Solutions provider in South Africa.
We supply and manage innovative, cost-effective business technology solutions
Welcome to United Business Solutions
Our purpose, as a leading business technology solutions provider, is to fulfil our client's needs and support them in achieving their goals by optimizing and enhancing their workplaces. We are able to achieve this with our extensive, multi-branded product range. From Office Printers, Data Connectivity and CCTV Cameras to Telephone Systems, Managed Print Solutions and Access Control Systems – we can be your single point of contact.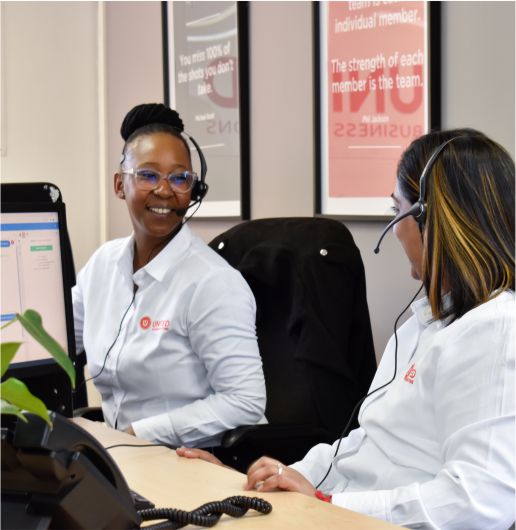 We take customer service very seriously
As a customer-centric business, providing excellent service and support to our clients is our number one priority.
"I truly appreciate UBS, where all my interactions with them leave me SMILING I have been renting a refurbished printer from them for a couple of years now. AFFORDABLE contract rates, RELIABLE machines and GREAT follow-up service."
"This is THE telecoms company out there! They make an effort to understand their customers so as to give the best possible service. Their technical staff have also been very efficient in setting things up for us."
"United Business Solutions installed our CCTV cameras. The work was professionally done and difficult cameras were installed with excellence. The staff were knowledgeable and extremely competent. A job well done."
"A great company to deal with, we are really happy with our choice. Daron, Shaun and the team have been so helpful. They offered us a great deal! Highly recommended!"
Ready to enhance and optimize your workplace?

United Copiers is our e-Commerce Printer and Copier online store. View and shop our printers, inks and toner cartridges and more.

United Telecoms specialises in all things telephony and connectivity. Learn more about our range of PBX phone systems with in-depth product information and resources.

Intervid Africa is our sister company specialising in security solutions for all types of organisations. Discover their range of solutions.
Interested in our solutions? Let's talk.